Quizzes in a spectacular concept
The Quizshow is a concept that takes quizzing to the next level. No traditional pub quiz with pen and paper, but a modern and dazzling show with image, sound and light! Under the guidance of a cheerful and professional quizmaster, all questions are presented to the participants. With the contestants smartphone the answers are registered and at the end of the evening it is immediately known who has won. Keypads are also a possibility for answering.
The Quizshow is a total concept. Not only the questions are arranged, but also all necessary equipment is arranged when booking the show. Sound, image and light! Everything is perfectly coordinated and ensures the ultimate quiz experience for your guests. While the questions are being asked, they are also shown on screen. Photo and video questions are also included. Exciting music during the thinking time and audio fragments with the music questions create an exciting atmosphere. The light show also simulates a real TV show, participants do not know what is happening to them. We can even take care of the team registrations.
Size tailored to your event
Whether you want to tailor The Quizshow to a small or large event; everything is possible. The show can be played by a small number of teams but also by large groups. This way the show fits into every event and every room. Consider, for example, smaller associations. The basic show is already possible up to 10 teams. But a large decor can also be brought along for large staff parties, so that all participants have a perfect view and can follow the show excellently. We also expect this quality delivered from our suppliers of image, sound and light.
The opportunities to apply The Quizshow are countless. From small to large groups and from business meetings to large parties. When a creative, festive and enthusiastic interpretation has to be given to the program, The Quizshow is the right concept. Idea about possible implementation? Contact us, we are happy to think along.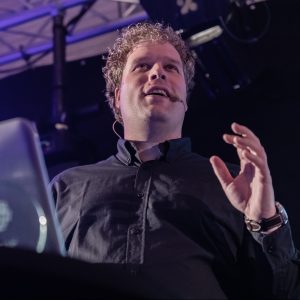 The Quizshow is under the enthusiastic (and sometimes a bit strict) leadership of Bouke Koning. With more than 20 years of hosting experience in the radio and TV world, he ensures that the show runs smoothly from start to finish. He entertains the audience with his humor and also keeps them focused during the questions. Sometimes with a little help if it really has to be, but honest and fair when it matters.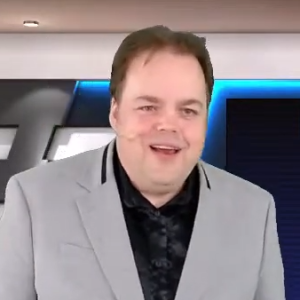 In addition to Bouke, Hans has also been added to the quiz master team. So you can also meet him at one of the quizzes. Anything about his resume? Euhm… More than 25 years of hosting experience. Also makes radio and video productions, well-known entertainer at shows for kids and young people. With Hans you are assured of a fun quiz. A little warning though. Sometimes it seems he doesn't have them all in one place. It's a good thing that the scoring is done electronically
Do you want to make your event unforgettable with
The Quizshow?